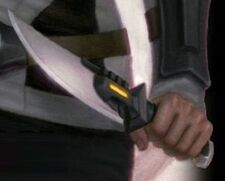 A vibro blade was a type of powered tool or edged weapon used in the Post Diaspora era.
The cutting edge of a vibro knife was less than a molecule wide and could inflict terrible wounds when active. It existed in several versions, including small survival knives of 18 cm blade length and bush knives of 60 cm. (HHA1.1: ABF)
For safety reasons, civilian versions were required, by Manticoran law, to emit a high pitched whine when activated. (HHA2.1: TS)
The Royal Manticoran Marine Corps used the M87 Vibro Bayonet. (JIR1)
Ad blocker interference detected!
Wikia is a free-to-use site that makes money from advertising. We have a modified experience for viewers using ad blockers

Wikia is not accessible if you've made further modifications. Remove the custom ad blocker rule(s) and the page will load as expected.