This article is about the fan organization; for the in-universe navy, see Royal Manticoran Navy.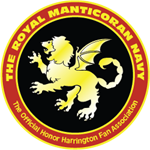 The Royal Manticoran Navy, often abbreviated to TRMN, is the official Honor Harrington fan association.
Starting as a small grouping of fans in 2007, it has since become a large organization of Honorverse enthusiasts, officially endorsed by David Weber. It is heavily involved in the holding of conventions such as Manticon.
External links
Edit