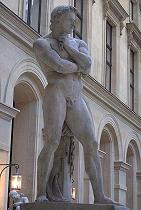 Spartacus (109 BCE – 71 BCE) was the most notable leader of the slaves in the Third Servile War, a major slave uprising against the Roman Republic on Old Earth.
His rebellion proved inspirational to many literary and political writers of later millenia, making Spartacus a folk hero among cultures both ancient and modern.
Post Diaspora
Edit
The joint operation to take the planet Congo away from Manpower Incorporated and make it a safe haven for former slaves was named Operation Spartacus.
Princess Ruth once wondered what Spartacus' son would have been like had he been successful in founding a nation of former slaves. (CS1)
The captured battlecruiser PNES Chao Kung Ming was recommissioned as TNS Spartacus by the Royal Torch Navy. (CS2)
External links
Edit