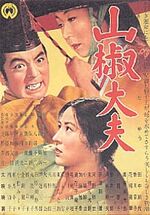 Sansho the Bailiff was a 1954 CE motion picture by Japanese film director Kenji Mizoguchi.
Based on a short story of the same name by Mori Ogai, it told the story of two aristocratic children sold into slavery. It was often considered one of Mizoguchi's finest films, along with Ugetsu and The Life of Oharu, bearing his trademark interest in freedom, poverty and woman's place in society, and featured beautiful images and long and complicated shots.
Havenite secret agent Victor Cachat liked this movie very much. (HHA4.5: F)
External links
Edit
Ad blocker interference detected!
Wikia is a free-to-use site that makes money from advertising. We have a modified experience for viewers using ad blockers

Wikia is not accessible if you've made further modifications. Remove the custom ad blocker rule(s) and the page will load as expected.