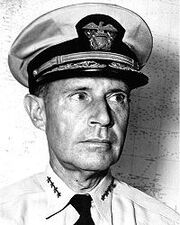 Raymond Ames Spruance (July 3, 1886 CE – December 13, 1969 CE) was a United States Navy admiral during World War II on Old Earth.
He was still remembered as a remarkable military tactician in the Post Diaspora era. (HH9, HH10)
External links
Edit
Ad blocker interference detected!
Wikia is a free-to-use site that makes money from advertising. We have a modified experience for viewers using ad blockers

Wikia is not accessible if you've made further modifications. Remove the custom ad blocker rule(s) and the page will load as expected.