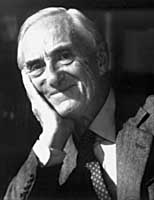 Patrick O'Brian (12 December 1914 CE – 2 January 2000 CE), was an English novelist and translator.
He was best known for his Aubrey–Maturin series of novels set in the British Royal Navy during the Napoleonic Wars and centered on the friendship of Captain Jack Aubrey and the Irish–Catalan physician Stephen Maturin. The 20-novel series is known for its well-researched and highly detailed portrayal of early 19th century life, as well as its authentic and evocative language. A partially-finished twenty-first novel in the series was published posthumously containing facing pages of handwriting and typescript.
He was born Richard Patrick Russ in Chalfont St. Peter, Buckinghamshire and was the son of a physician of German descent and an English mother of Irish descent.
According to Anton Zilwicki a vocal minority among officers of the Royal Manticoran Navy considered him the greatest author of all time.[1] (HHA3.3: FtH)
References
Edit
↑ O'Brian's work is, of course, one of the main real-life inspirations for the Honor Harrington series. The name Harrington actually comes from a fleet doctor in Master and Commander.
External links
Edit
Ad blocker interference detected!
Wikia is a free-to-use site that makes money from advertising. We have a modified experience for viewers using ad blockers

Wikia is not accessible if you've made further modifications. Remove the custom ad blocker rule(s) and the page will load as expected.