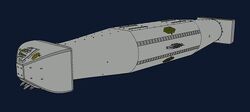 The Minotaur class was a class of LAC carriers designed and used by the Royal Manticoran Navy.
Technical data
Edit
The Minotaur-class ships were the result of Project Anzio. They massed just over six million tons, with an overall length of 1,131 meters, a beam width of 189 meters, and a drought of 175 meters (Companion). The offensive armament was limited to chase mounts of four grasers and nine missile tubes, while the broadside armament was defensive only.
They were equipped with 100 launch bays for Shrike-class light attack craft. (HH8)
Known Ships
Edit
References
Edit
Ad blocker interference detected!
Wikia is a free-to-use site that makes money from advertising. We have a modified experience for viewers using ad blockers

Wikia is not accessible if you've made further modifications. Remove the custom ad blocker rule(s) and the page will load as expected.