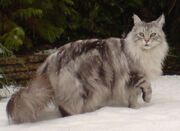 The Maine Coon was an Old Earth breed of domestic cat, originally native to North America.
They were one of the largest breeds of domestic cat. Males weighted between 6 and 11 kilograms while females weighted between 3.5 and 8.2 kg. The height of adults could vary between 24 and 41 centimeters, and they could reach a length of up to 100 cm including the tail, which could be up to 36 cm long.
External links
Edit
Ad blocker interference detected!
Wikia is a free-to-use site that makes money from advertising. We have a modified experience for viewers using ad blockers

Wikia is not accessible if you've made further modifications. Remove the custom ad blocker rule(s) and the page will load as expected.