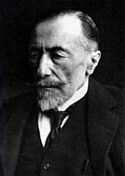 Józef Teodor Konrad Korzeniowski (3 December 1857 CE – 3 August 1924 CE), better known under the pen name Josef Conrad, was a Polish-born British novelist.
He was regarded as one of the greatest novelists in English, though he did not speak the language fluently until he was in his twenties (and then always with a marked Polish accent). He wrote stories and novels, predominantly with a nautical or seaboard setting, that depict trials of the human spirit by the demands of duty and honor.
According to Anton Zilwicki, a majority among officers of the Royal Manticoran Navy considered him the greatest author of all time, while a vocal minority prefered Patrick O'Brian. (HHA3.3: FtH)
External links
Edit
Ad blocker interference detected!
Wikia is a free-to-use site that makes money from advertising. We have a modified experience for viewers using ad blockers

Wikia is not accessible if you've made further modifications. Remove the custom ad blocker rule(s) and the page will load as expected.