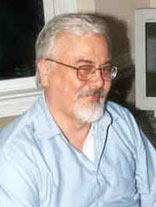 James Patrick "Jim" Baen (1943 – 2006) was an American science fiction publisher and editor, and the founder of Baen Books.
In 1983 he founded his own publishing house, specializing in the adventure, fantasy, military science fiction and space opera genres. In late 1999, he started an electronic publishing business called 'Webscriptions' (since renamed to 'Baen Ebooks'), which is considered to be the first profitable e-book vendor.
Jim Baen is remembered as a pioneer of commercial electronic publishing as well as an outspoken opponent of digital rights management (DRM).
His likeness is among the steadholders in David Mattingly's cover art for Flag in Exile, see here.
External links
Edit