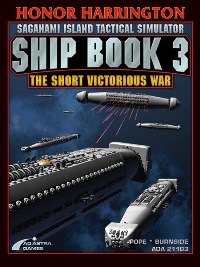 Jayne's Fighting Ships of the Galaxy, Vol. 3 is the third ship book for the Saganami Island Tactical Simulator tabletop wargame, focusing on capital ships like the dreadnought and superdreadnought.
Cover Summary
Edit
In the universe of Honor Harringon, size matters. Ship Book 3 brings the dreadnoughts and superdreadnoughts of the Honorverse to your gaming table, with full class history write-ups, game stats and a range of scenarios covering the opening phases of the Havenite-Manticore war.
The 44-page setting book covers everything from a compendium of the Honors and Medals of the Star Kingdom of Manticore to technical discussions of how armor works against the nigh-incalculable energies of Honorverse weapons, a doctrinal overview of the Havenite Republic's strategic aims, and a complete Order of Battle and naval analysis of the Battle of Hancock.
References
Edit
Ad blocker interference detected!
Wikia is a free-to-use site that makes money from advertising. We have a modified experience for viewers using ad blockers

Wikia is not accessible if you've made further modifications. Remove the custom ad blocker rule(s) and the page will load as expected.