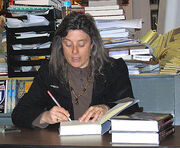 Jane M. Lindskold, born in 1962 in Columbia, USA, is an American writer of fantasy and science fiction short stories and novels.
The three short stories she has written for the Honorverse anthologies have featured strong female characters in difficult situations. The two main characters, Queen Elizabeth III of Manticore and Judith Templeton, in fact became sisters-in-law later on in the series.
Lindskold lives in Albuquerque, New Mexico with her husband, archaeologist Jim Moore.
Work (Honorverse only)
Edit
Short stories
Edit
External links
Edit
Ad blocker interference detected!
Wikia is a free-to-use site that makes money from advertising. We have a modified experience for viewers using ad blockers

Wikia is not accessible if you've made further modifications. Remove the custom ad blocker rule(s) and the page will load as expected.