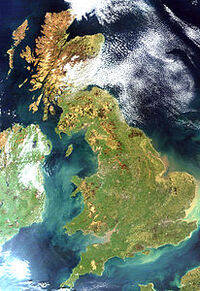 Great Britain was a European island on Old Earth.
Great Britain was the home of the United Kingdom of Great Britain and Ireland, including the countries of England, Scotland, Wales, and Ireland. British history was still remembered thousands of years later in the Diaspora of Man, including military affairs[1], the political organization of the state[2] and famous British individuals.[3]
References
Edit
↑

Nobility and aristocracy
Ad blocker interference detected!
Wikia is a free-to-use site that makes money from advertising. We have a modified experience for viewers using ad blockers

Wikia is not accessible if you've made further modifications. Remove the custom ad blocker rule(s) and the page will load as expected.