Ad blocker interference detected!
Wikia is a free-to-use site that makes money from advertising. We have a modified experience for viewers using ad blockers

Wikia is not accessible if you've made further modifications. Remove the custom ad blocker rule(s) and the page will load as expected.
The Condor class was an armed pinnace design used by the Royal Manticoran Navy.
Technical Specifications
Edit
The Mark 28 Condor was designed as an air superiority/ground strike vessel, but was also equipped to serve as a troop and cargo transport. The vessel could carry a full Marine rifle company.
This type of pinnace featured adjustable "sweep wings" that could change their angle depending on the flight mode.
The Mark 30 Condor featured a 5cm nose-mounted laser as opposed to the 2cm laser featured in previous versions. The Mark 30 also had upgrades to sensor suites, EW, compensators, and fire control. (SI1)
Wingspan
Full extension: 36.3 m
Folded: 21.25 m
Propulsion
Mk9 Small Craft Impeller Drive
PN-7 Attitude Control System
2 Beseny TF-1700 Dual Feed Turbofans
RT-12 Emergency Thruster System
Armament
Edit
1 spinal mounted anti-ship laser
2 forward mounted heavy pulser cannons
6 underwing hardpoints for external munitions
Deployment
Edit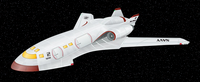 Majestic-class dreadnoughts and Reliant-class battlecruisers were each equipped with four Mk28 Condors. King William-class superdreadnoughts carried three. (JIR1)
Edward Saganami C-class heavy cruisers such as HMS Hexapuma carried three Mk30 Condors. (SI1)
External links
Edit