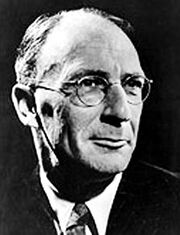 Cecil Louis Troughton Smith (1899 – 1966 CE), better known by his pen name C. S. Forester, was an English novelist who rose to fame with tales of adventure and military crusades. His most notable work was the 11-book Horatio Hornblower series.
While serving in the Silesian Confederacy, Honor Harrington read a Hornblower novel during her free time aboard HMAMC Wayfarer, noticing a number of similarities between the main character and herself, including their initials.[1] (HH6)
References
Edit
↑ David Weber is known to be a great fan of Forester, having used the Hornblower character as one of the role models for the creation of Honor Harrington.

The first Honorverse novel, On Basilisk Station, is dedicated to Forester.
External links
Edit