Ad blocker interference detected!
Wikia is a free-to-use site that makes money from advertising. We have a modified experience for viewers using ad blockers

Wikia is not accessible if you've made further modifications. Remove the custom ad blocker rule(s) and the page will load as expected.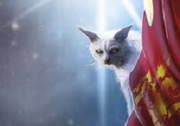 Ariel[1], known as Leaf Catcher among his own kind, was a Sphinxian treecat of the Fire Runs Fast Clan who bonded with Queen Elizabeth III of Manticore in 1880 PD, when she was still the crown princess. (HH6, HH9, Companion)
Once Adelina Arif developed a sign language that worked for humans and treecats, Ariel and Elizabeth were among the first to learn it. (HH13)
References
Edit
↑

The name means "Lion of God" in Hebrew.