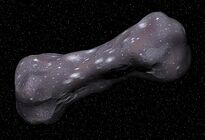 216 Kleopatra was an asteroid in the Sol System's main belt, known for its peculiar "dog's bone" shape.
It was a rendevous point for the unnamed assaillants who killed the crew of the passenger liner Fragrant Blossom and their ship. After the Customs Patrol cutter Venerated Gaia had taken the liner back, it proceeded to 216 Kleopatra, where it destroyed the waiting ship in a missile engagement. (HHA6.1: BTB)
External links
Edit
Ad blocker interference detected!
Wikia is a free-to-use site that makes money from advertising. We have a modified experience for viewers using ad blockers

Wikia is not accessible if you've made further modifications. Remove the custom ad blocker rule(s) and the page will load as expected.